Shrien Dewani trial: 'Accused met gay escort three times'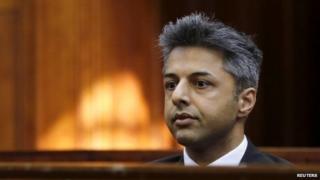 A businessman accused of arranging the murder of his wife in South Africa met a gay escort three times, a court has been told.
Leopold Leisser, known as the German Master and who offers fetish services, said Shrien Dewani slept at his home.
Mr Dewani, 34, from Bristol, denies arranging the murder of wife Anni, who was shot while on honeymoon in 2010.
Mr Leisser's testimony was cut short after the defence questioned the relevance of the evidence.
Prosecutor Adrian Mopp told the court Mr Dewani had said to Mr Leisser he was about to be engaged to Anni, a Swedish national, and could not find a way out of the marriage without being disowned by his family.
Mr Mopp said the court would eventually be confronted with the question of why Mr Dewani would commit such a crime, and that Mr Leisser's evidence would help explain this.
Judge Jeanette Traverso ordered the witness stand down, and said she wanted to hear reasons as to why the evidence should be allowed.
The German sex worker who lives in the UK, earlier told Western Cape High Court he offered sadomasochist fetishes and services.
Mr Mopp said it was "not in dispute" that Mr Dewani used Mr Leisser's services and that they met on three occasions.
He added it was also not in dispute that Mr Dewani's Gaydar website profile name was Asiansubguy, that he paid for Mr Leisser's services and that on one occasion Mr Dewani slept overnight at Mr Leisser's house after a session.
Mr Leisser said it was "not usual" for clients to sleep over, and it had happened because Mr Dewani had asked to do so.
After an objection from the defence about the relevance of the evidence, Judge Traverso ordered the witness stand down, and said she wanted written notice from both the defence and the prosecution regarding the relevance of the witness.
"Unless I am convinced that this evidence will assist the court in this matter, I am not going to allow this," she said.
At the start of the trial, Mr Dewani said in a witness statement he considered himself to be bisexual and had "sexual interaction with both males and females".
However, the judge has already ruled that evidence about Mr Dewani's sexuality cannot be used in court.
The prosecution argues Mr Dewani was leading a secret double-life and wanted out of his marriage, so arranged a staged hijacking in November 2010 in which he escaped and his wife was killed.
Three men have already been convicted in connection with Mrs Dewani's death.
The trial continues.