PCC Sue Mountstevens apologises for revealing complainant's name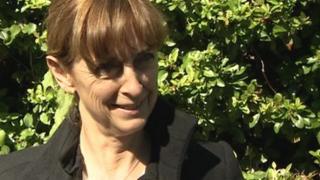 The Avon and Somerset Police and Crime Commissioner (PCC) has apologised for telling Chief Constable Nick Gargan the name of a woman who had accused him of improper behaviour.
In a statement, Sue Mountstevens said the force's crime panel had received a complaint about her remarks and told her she had made a "mistake".
She said it was a situation she "could have handled better".
Mrs Mountstevens said she had apologised to the individual concerned.
In May, Mr Gargan was suspended over allegations he made inappropriate advances to female staff.
The following month, he was told he would not face a criminal inquiry in relation to those allegations.
'Whistleblower status'
Mr Gargan was also investigated over alleged data protection breaches, but the police watchdog the IPCC later said it did not consider that he could have committed the offence.
This was because Mr Gargan was the registered data controller for Avon and Somerset police and the offence can only be committed by someone who is not the data controller.
Mrs Mountstevens said she told Mr Gargan the identity of a person who had made a complaint against him while meeting him to discuss concerns she had about how that individual was coping generally.
She said at the time of the conversation she was not aware of the "full facts", including "the detail of the allegations being made and the request for whistleblower status".
"I firmly believe that everyone in public office needs to be held to the same high standard of conduct, which is why I told the IPCC of my conversation before their investigation began," she said.
"I have co-operated fully with the Police and Crime Panel's investigation process. I have learnt from it, and employees within the constabulary can feel confident approaching me or my team if they have issues they feel uncomfortable raising elsewhere."
Mr Gargan remains on suspension and the PCC has until the end of October to decide whether there should be internal disciplinary proceedings.