Retired judge Sir John Royce criticises legal cuts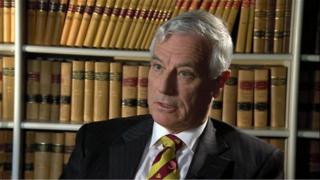 A recently retired High Court judge has said he thinks government cuts to the legal system have gone too far.
Sir John Royce, from Bristol, described the cuts as "savage" and said he had advised his own sons against joining the publicly-funded bar.
Ministers are planning to cut £220m from the annual criminal case legal aid budget in England and Wales.
A Ministry of Justice (MoJ) spokesman said: "Legal aid remains available where people most need legal help."
'Solicitors' firms closing'
Sir John, who was leader of the Western Circuit before becoming a High Court judge, said: "I have real concerns about where we are going to be in a few years' time, it's bad enough now.
"The publicly-funded bar has depended upon a lot of solicitors and barristers being prepared to work extremely hard to ensure members of the public have proper access to justice and are properly represented.
"Savings have to be made and there have been very substantial savings. But for the bar and solicitors now, it is very, very tough and I think the cuts have been far too savage.
"I don't think there's sufficient recognition of the importance of a good quality service - solicitors' firms are closing, young members of the bar of real talent are not coming to the publicly-funded bar.
"It saddens me that I had to advise my sons not to come to the publicly-funded bar for that reason."
Steve Brodie, BBC Home Affairs correspondent, West of England
For a judge of his standing to talk openly about his concerns about the future of his profession and to give an interview is rare.
The former solicitor who became a barrister more than 40 years ago in Bristol has little time for the present Lord Chancellor, Chris Grayling. He agrees with the view of the profession that "he doesn't listen".
Sir John told me how he's spoken to judges up and down the country who are struggling to make the crown courts work - with lack of the proper staff "of the right ability".
The former Cambridge hockey blue and keen cricketer admits that like all public services there must be cuts but the government has gone too far and is endangering the the system.
Sir John, who presided over the high profile trial of paedophile Lostprophets singer Ian Watkins last year, said there was a feeling among the profession Mr Grayling - "a non-lawyer" - was going the wrong way about making savings.
"You will have seen the protests the bar made by going on strike for a day or two. That's unprecedented," he said.
"The very powerful view of the profession is that he [Chris Grayling] is not listening sufficiently to other ways of achieving savings.
"There have been massive cuts in the court system. The CPS [Crown Prosecution Service] is under-resourced, they're not properly in a position to do the job they're supposed to be doing.
"There aren't the people, or the right people, in the courts' service itself or the probation service, they're all very stretched up and down the country."
'More efficient' system
He said: "It's obvious to me in every court that I go to, talking to the resident judge and other judges, they're facing the same problems.
"You've even got no canteen facilities any longer, which is a very short-sighted approach in my view."
Sir John said this meant judges having to give juries an extra 15 minutes for their lunch break.
"You lose court time. It's the same story everywhere. You see judges tearing their hair out," Sir John said.
Shadow Justice Minister Andy Slaughter described the comments as an "extraordinary attack on the government from one of Britain's top judges".
"The swingeing cuts to legal aid have led to chaos in the courts. David Cameron must act urgently to address the damage his government have wrought on the legal profession," Mr Slaughter said.
A Ministry of Justice spokesman said: "The reforms we are putting in place will make it sustainable for providers in the sector, and affordable for the taxpayer who ultimately foots the bill.
"We are also making sure offenders are rehabilitated, so they don't return to a life of crime, by extending support to an extra 50,000 prisoners a year serving short sentences.
"At present they receive little or no help at all on release.
"Our reforms will mean a fairer, more efficient criminal justice system - as well as giving us a better chance of keeping our communities safe."