Great Western Air Ambulance's new helicopter arrives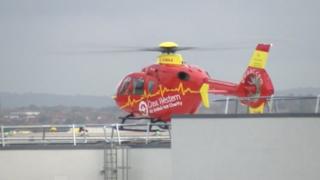 An air ambulance crew can now land on Bristol Royal Infirmary's helipad five months after it opened, after taking delivery of a new helicopter.
Great Western Air Ambulance's old 1960s model was too heavy to land on the pad.
The charity took five years to raise the £250,000 needed for the new model, which is larger, lighter and faster.
Chief executive John Christensen said: "What we've got is entirely due to the people in this area who donated generously."
The new aircraft has more space so parents can ride with children and it can also be used to train doctors and paramedics on board.
Great Western Air Ambulance was the only charity in the region which did not have a compatible aircraft to land on the Bristol hospital.
Instead, it had to use the helipad on the Clifton Downs and casualties were taken by ambulance the 1.5 miles to BRI, which could take up to 30 minutes in traffic.
Patients can now be transferred swiftly from the helipad to the neighbouring Bristol Children's Hospital and the nearby Bristol Heart Institute.