Coalpit Heath Pre-School in landlord rent hike row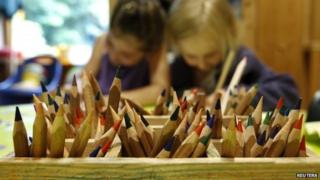 A pre-school near Bristol is facing closure after a rent hike of 31% made after complaints were made to the landlord about dust levels.
Ofsted top-rated Coalpit Heath Pre-School is based in Manor Hall which is run by Manor Hall Trust.
Pre-school head Wendy Lacey was told by the trust not to speak to the media or it would "terminate" her contract.
The trust has said the council deemed dust levels as safe but it would not comment about the rent increase.
Rent repercussions
In a letter seen by the BBC from the trust, it stated: "Any repercussions relating to this letter will also be treated as notification that you would like to terminate your contract with us.
"Repercussions include damage to our property... and also taking this matter to the press."
The rent would equate to an increase of £45 per week but has been described as "untenable" by supporters of the pre-school.
A former parent of a pupil and school governor of the neighbouring Coalpit Primary School, Michaela Crumpton, said: "When you think most of the parents' children are there with funding - they get their 15 hours a week which is funded by the government.
"Those funds haven't gone up by a considerable amount of time, there aren't many parents that pay for extra hours and it would fall on them to make up the extra.
"Plus at the end of the month the staff are due an extra increase in wages in minimum wage."
The initial complaints about dust levels were made to South Gloucestershire Council after refurbishment work in two of the school rooms.
A meeting is due to be held in November about the planned rent increase, the trust has confirmed.