Brunel's other bridge in Bristol may be repaired as £1m appeal launched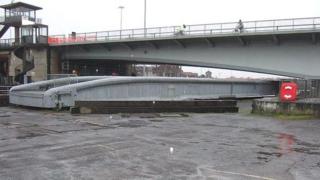 An appeal has been launched to raise £1m to restore Isambard Kingdom Brunel's "forgotten bridge" in Bristol.
The Grade II* listed swing bridge was installed in 1849 as a dockside crossing in the Cumberland Basin.
But in the 1960s it was replaced by Plimsoll Bridge, and has since been "left to rot" on the dockside.
Conservationist Mary Sabina-Stacey, said the "forgotten gem" was in such a bad state "it will rot away if something isn't done".
Known as 'Brunel's other bridge' or 'Bob', it is the city's only abandoned Brunel structure, according to the Swivel Bridge Group.
Standing in the shadow of Brunel's iconic Clifton Suspension Bridge, 'Bob' is not only far older but was the engineer's first large wrought iron opening bridge.
"It was built to go over the locks to enable people to get out of Bristol, so until the M5 was built that was the bridge that everybody crossed," said Ms Sabina-Stacey.
"So it's really sad that this very important Brunel site is completely neglected."
Currently on English Heritage's Buildings at Risk Register, Ms Sabina-Stacey said the swing bridge was in such an "unloved" state that volunteers had been "sweeping up buckets of rust".
"At the moment we're trying to halt the deterioration and the invading rust," she said.
"But English Heritage have given us some money, so we're going to have some engineering investigations and come up with an informed method of restoring it."