Bijan Ebrahimi inquest will be summer 2015 at earliest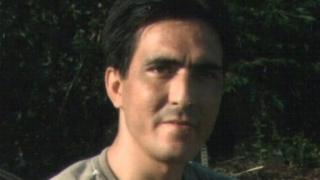 An inquest into the death of an Iranian immigrant murdered by his neighbour in Bristol will not be heard until at least next summer, a coroner has said.
Bijan Ebrahimi was beaten to death near his home and set on fire after being wrongly branded a paedophile, despite making numerous calls to the police.
Prosecutors are considering whether to press charges against six police officers and staff.
The inquest cannot take place until any criminal proceedings are complete.
Mr Ebrahimi's family, who attended the pre-inquest hearing at Flax Bourton Coroner's Court earlier, said: "We anxiously await the CPS [Crown Prosecution Service] decision and hope that justice will be done.
"We don't wish to say more at this stage as we want the criminal procedure to be fair."
'Prompt decision'
The family's solicitor, Tony Murphy, said: "These tragic events are unimaginably difficult for the family and it is made all the harder by the fact that they have to wait for these processes to conclude.
"They very much look forward to receiving a prompt decision from the CPS in relation to the question of criminal charges."
The completion of an inquiry by the Independent Police Complaints Commission (IPCC) was announced on Tuesday, and files on a call handler and a dispatch supervisor sent to the CPS for consideration.
The IPCC previously sent the CPS a file of evidence relating to three Avon and Somerset police constables and a PCSO.
The watchdog is also looking at police contact with Mr Ebrahimi dating back six years prior to his death. This part of the investigation is continuing.
Lee James, 24, who admitted Mr Ebrahimi's murder in July 2013, was jailed for a minimum of 18 years last November.
Stephen Norley, who admitted assisting an offender, was jailed for four years.