Spine operations put on hold at Southmead Hospital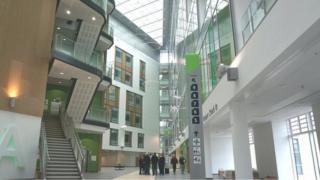 Spinal operations at Southmead Hospital in Bristol have been put on hold because of a backlog of cases.
No new adult patients will receive surgery, but urgent cases and people on the waiting list will still be treated.
A spokesman said it was because of an increase in GP referrals and a shortage of experienced spinal surgeons.
North Bristol NHS Trust said it was working through the backlog and it hoped to restore the full service within 18 months.
The backlog relates to orthopaedic spinal operations carried out at the hospital.
The trust's medical director Chris Burton said: "Nationally, there has been a steady increase in the numbers of referrals in this field, with few hospitals across the country offering this complex spinal service, combined with a shortage of experienced spinal surgeons.
"As a result... this situation has led to more than 100 patients, from across the region, waiting more than 12 months for surgery, which we consider to be unacceptable.
"Our first duty has to be for our patients we have already accepted on to our waiting list."
Mr Burton said emergency and routine spinal procedures for children at Bristol Children's Hospital would remain unaffected.
It is the latest setback for the new £430m hospital since it opened in May, including claims of parking shortages, operations being cancelled because theatres were not ready and stains appearing on the floors of operating theatres.