Work begins on Clevedon Pier £1.5m visitor centre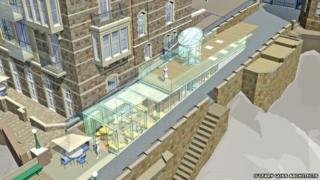 Work has begun to build a £1.5m visitor centre at the end of Clevedon Pier after four years of fundraising.
The new extension will be made of glass so it blends into the Grade I-listed building design.
Chairman of the trust, Simon Talbot-Ponsonby, said the new visitor centre would help the trust become fully self-sufficient in the future.
Once completed, the centre will have a cafe, toilets and a small meeting and education space.
Pier mistress, Linda Strong said: "It's a very exciting time to be involved and watch it grow from strength to strength.
"Last year was a good year for visitors and I look forward to seeing many more who come to see the work carried out."
Clevedon is the only Grade I-listed pier in the country to remain intact and in regular use.
Over 80,000 people visit every year, plus 4,000 further visitors who arrive on pleasure ships such as the Waverley and the Balmoral.
Work is due to be completed by next summer.