Bristol Green Capital boss Kris Donaldson leaves job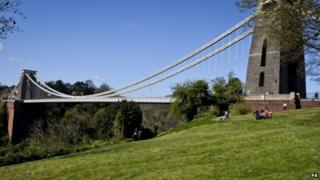 The man in charge of organising Bristol's year as European Green Capital in 2015 has left his post.
Kris Donaldson's departure comes a week after he and his team turned to the council for help after they were criticised by some councillors for not having a clear plan of action.
Bristol City Council's chief executive Nicola Yates will now be in charge.
Mayor George Ferguson said Mr Donaldson had "absolutely not" been sacked, but he "did not have his contract renewed".
Mr Donaldson set up the independent Bristol Green Capital company, which was to work with the city council and a partnership of more than 500 organisations.
He said he would not be commenting on his departure.
Andrew Garrard, chairman of Bristol Green Capital, said Mr Donaldson's departure was "not a reflection on his abilities".
'Mutual agreement'
He said: "Kris was clearly disappointed because he's been involved in this from the very beginning. He's set it up, raised a huge amount of money, created a very good team.
"But we discussed the situation which was we felt the skills that were needed to get us to where we are now were not the same skills that were needed for delivery of the programme.
"We came to a mutual agreement that we should part company."
---
Analysis: Chris Brierley, BBC political reporter
It's been a summer of speculation about what Green Capital is all about and why has nothing been announced.
The "100 days to go" mark came and went - no fanfare, no big launch of plans.
A void of information led to concerns, with councillors openly saying Green Capital was in danger of becoming a damp squib.
There was talk of dissent in the ranks and the company set up to deliver everything being in crisis - but these claims were dismissed by the mayor and the chairman of the board.
They claim Kris Donaldson has done well with fundraising, but his problem was "not enough transparency", according to the mayor.
So he paid the price. Hired nine months ago to lead the whole thing, now he's looking for a new job.
The word sacked is not allowed we're told, but he's not had his contract renewed.
So the council chief executive will take over - as well as running the council full time.
Next week more plans are set to be announced on what residents in the city will see next year.
The hope: Green Capital 2015 will now kick up a gear and be a success.
---
Mr Garrard said he did not think the appointment of Mr Donaldson, who was earning more than £100,000 and due to be in the job until 2016, had been a mistake.
But he refused to say how much severance money he would be paid, saying: "It should come out in the public accounts in a formal manner."
Mr Ferguson said he had approved the decision as a member of the company's board.
'Lack of transparency'
"I understand people will make havoc with it because it's news, but the reality is we're moving into a much more managed and operational stage that will deliver an excellent programme that's well financed," he said.
"I do regret there's been a lot of speculation as a result of apparent lack of transparency and that's wrong. The more open you are the less speculation you get."
Bristol is the first UK city to be named as European Green Capital since the award was launched in 2008.
A programme of events to celebrate the award is expected to be announced next week.