Bristol water supplies restored after main burst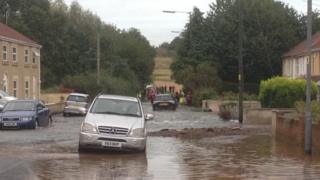 Water has been restored to homes in Bristol following a burst main that caused widespread disruption.
More than 24,000 homes were left without water after the main ruptured in Kingswood on Thursday afternoon.
Some 10,000 homes were still without water on Saturday morning, but Bristol Water said all supplies had been restored by midday.
The firm has warned that some customers will experience some discolouration to their supply.
A new section of main was installed by Bristol Water on Friday night and the firm said it would be shutting down its emergency water supply bowsers.
"We would like to thank all our customers affected for their patience," said spokesman Jeremy Williams.
On Thursday, 19 people were rescued by inflatable dinghy and spent the night in a church hall and 18 schools in the area were closed.
On Friday, it was reported that some residents had been waiting for water at bowsers for more than an hour in Kingswood, and supplies in local shops had run dry.
Resident Brian Jubb, who was without water for three days, said it had been "very hard" to get supplies.
Calls for compensation
"Yesterday, I tried Asda but there wasn't any," he said.
"I went up Kingswood and the queue was about 200 yards long, so I went back to B&Q and someone gave me half a container of water, so we were lucky we had breakfast."
Bristol Water's response has been criticised by the Conservative MP for Kingswood, Chris Skidmore, who said he would be "pressing for an investigation into the Kingswood water crisis".
And on Twitter, resident Scott Salter said the firm had "dealt with this terribly" while others said they would be seeking compensation.