Thekla returns to Bristol with new Inkie image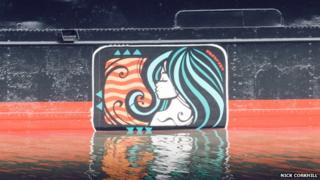 One of Bristol's long-running floating music venues has returned home with a new image after a three-month refurbishment.
Thekla has been a fixture in the harbour since the early 1980s.
A deteriorated Banksy artwork, Grim Reaper, has been cut from the side and replaced with a commissioned piece by Bristol-born artist Inkie.
The venue, at East Mud Dock in the city's floating harbour, re-opened on Thursday with its Pressure club night.
Owned by DHP Family since 2006, the boat has about 100,000 visitors a year, and celebrated its 30th birthday in May this year.
It has been in dry dock for the last 13 weeks having a complete overhaul inside and out.
While the ship was out of the water for the first time in eight years, the opportunity was taken to remove the Grim Reaper to protect it from further erosion.
The work is now on long-term loan to the M-Shed museum in Bristol and is expected to go on display before Christmas, following a programme of assessment and conservation.
Every few months, Thekla will invite a different artist to come and paint a new piece onto the panel currently occupied by Inkie.
George Akins, DHP Family owner, said: "It's a bit more challenging to carry a refurbishment to a boat so we made the most of having it in dry dock to make a lot of changes that will really have a positive impact on everyone's enjoyment of their time on the boat."
The former cargo ship was originally converted into a theatre by artist and musician Vivian Stanshall, formerly of the Bonzo Dog Doo Dah Band.
It later became a night club and music venue.