Protest over 'promised' minor injuries unit at Cossham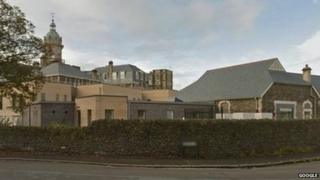 A protest has been held by campaigners who want a minor injuries unit built at a Bristol hospital.
Cossham Hospital in Kingswood reopened in January 2013 after a £19m refit, but without the unit.
The service was originally promised as part of the planned move of facilities from Frenchay hospital to Southmead.
The Clinical Commissioning Group (CCG) said it was producing a draft strategy covering services at Cossham that is due to be published next month.
Ben Bennett, programme director for Strategy and Development with the CCG acknowledged the "frustration about the time taken to reach a decision about Cossham", but said it was tied up in the overall strategy for the whole of South Gloucestershire.
He said the CCG remains "committed to Cossham Hospital as an important local centre for services".
A petition signed by more than 7,000 people has been handed to NHS bosses calling for the unit to be built.
The CCG is responsible for planning, buying and monitoring local NHS services.
The protest followed a meeting in August attended by about 200 people including Jo McCarron, Labour's Parliamentary candidate for Kingswood, who has been supporting the campaign.
Ms McCarron spoke about the importance of delivering the promised unit.
"That promise has been broken, with a raft of the services we were told would be delivered now scrapped," she said.
"The longer people are forced to wait, the more suspicious they become that once again promised services will be downgraded."