Bristol's Thekla music venue sets sail home after refurbishment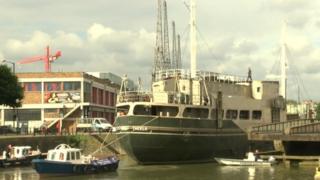 One of Bristol's long-running music venues is sailing back into position following a six-week refurbishment.
The Thekla, which is normally docked between Prince Street Bridge and Redcliffe Way, has been a fixture in the harbour since the early 1980s.
While it was in dry dock an image of the Grim Reaper by street artist Banksy was cut from the side before going on display at the M-Shed museum.
The replacement panel will be used an exhibition space for other artists.
A Thekla spokesman said the Grim Reaper had deteriorated over the years and a "difficult decision" was taken to remove the artwork so it could be preserved before it was lost forever.
But he added the venue had "no intention" of selling it.
"We really wanted to make sure that although it is being removed from its intended setting, people could still see it for free and will now get a better view of it," a club spokesman said.
The former cargo ship was originally converted into a theatre by artist and musician Vivian Stanshall, formerly of the Bonzo Dog Doo Dah Band.
It later became a night club and music venue.