Bristol flat fire death man named as Robert Crane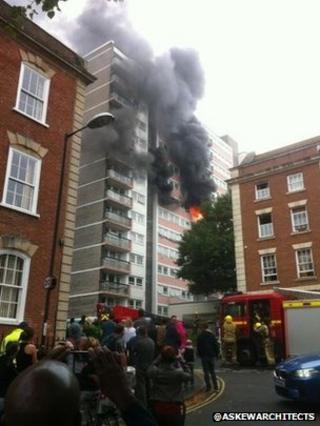 A 61-year-old man who died in a fire at a 13-storey block of flats in Bristol has been identified by police.
Resident Robert Crane died in the blaze on Saturday in Carolina House in Kingsdown.
Up to 40 firefighters tackled the fire which began on the seventh floor at about 11:00 BST.
Residents were evacuated from the building and several roads in the area were closed while the fire was brought under control.
People living nearby said Mr Crane had been known for starting fires.
Following fire-related complaints Bristol City Council said an injunction had been served against him in May.
One neighbour Malcolm Chappell said the fire brigade had been to the flat "numerous" times after Mr Crane's electricity was cut off 18 months ago.
Avon Fire and Rescue is investigating the cause of the blaze.