Bristol flood line: Art project sees city streets chalked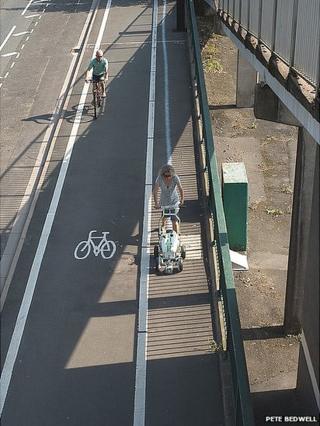 More than 11 miles (18km) of a 32-mile (51km) blue chalk line has been drawn through the streets of Bristol.
Made with a football pitch marker, the continuous line marks out the areas of the city which could be submerged under water in the event of flooding.
Created by people "living in the flood zone", the two-week HighWaterLine project was begun on Tuesday.
Isobel Tarr, a community organiser, said: "It's an art project - so its a guide line and not exactly accurate."
Bristol, according to organisers, is "very susceptible to flooding" and is one of five key areas in the country that needs to tackle its "resilience to floods".
New York, Miami, Bristol
Using an estimated 1,200 litres of chalk, the "flood zone" boundary is being marked out by residents living "inside the line".
"We're using a map from the Environment Agency as a guide, but it is an art project so we are using artistic licence," said Ms Tarr.
"We're going around people's cars and houses and we're avoiding main A-roads or where the chalk line would be confusing to people."
The concept is the brainchild of US artist Eve Mosher, who last year drew a high-water line in New York and a 26-mile (42km) line in Miami.
In the UK, Bristol is the first city to be "lined" and organisers say when finished the drawing will be the largest artwork ever commissioned in the UK.