Southmead Hospital misses spinal surgery target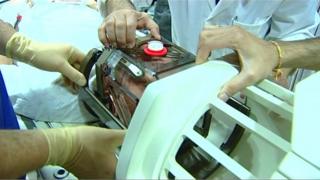 Some 110 patients requiring specialist spinal surgery at Bristol's new Southmead Hospital have been waiting more than a year for treatment.
An increase in referrals and a lack of specialist staff were behind the rise, an internal staff document seen by the BBC has shown.
The NHS has a target to treat the majority of people within 18 weeks.
The hospital opened in May at a cost of £430m, bringing together services from Southmead and Frenchay hospitals.
Medical director at North Bristol NHS Trust Dr Chris Burton said: "The difficulty with spinal operations is related to the specialist work that we do at Southmead hospital trust which can be done by a very small number of centres in the UK.
"There has been increasing referral and demand as some other centres... are stopping doing it so that requires particular surgical skills which are in shortage nationally."
The leaked team briefing document has also shown significant delays in urological operations and musco-skeletal procedures although exact numbers have not been stated.
The hospital is seeking extra funding from the South Gloucestershire Clinical Commissioning Group (CCG).
The CCG said it was working with the hospital to clear the backlog.
---
Analysis - Matthew Hill, West of England Health Correspondent
To a certain extent North Bristol Trust has been a victim of its own success.
Having built up an international reputation in neuro- surgery patients not only want to go there from the South West but from other parts of the country.
It's one of a few centres in the country to carry out operations on the brain, while using a mobile MRI scanner to make sure they are removing as much of the tumour as possible
With the closure of Frenchay Hospital in May 2014, the ambitious move to the new super hospital at Southmead was never going to be glitch free.
But unless a solution is found, in particular to the shortage of staff in spinal surgery at a national level, it seems patients are going to have to keep on waiting.
---