Bristol hydrogen-powered ferry a 'vanity project'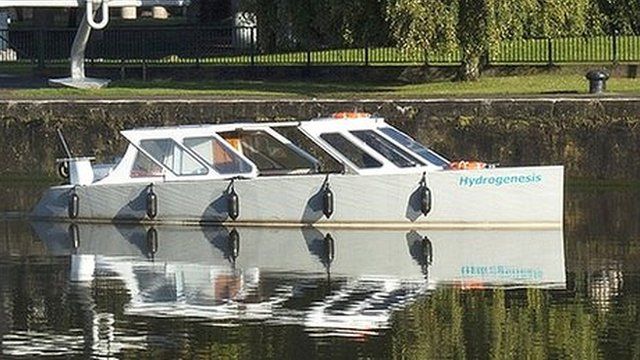 A hydrogen-powered ferry in Bristol has been criticised as a 'wasteful vanity project' by Conservative councillors.
'Hydrogenesis', believed to be the first commercial fuel cell boat in the UK, was commissioned by Bristol City Council in 2010 at a cost of £225,000.
It ran for six months in the harbour last year but has since been moored.
Councillor Richard Eddy called it a "white elephant", but Mayor George Ferguson said it had "served us well in terms of... environmental credentials".
The 12-seater passenger ferry was designed and built by Bristol Hydrogen Boats, a consortium of ferry operators and Auriga Energy.
It was operated as part of a six-month trial last year, but has not been used since.
"If you want a low-carbon boat, having a motionless boat moored up is a triumph because it's not going to create any carbon footprint," said Mr Eddy.
"In my view it's been a wasteful white elephant."
Mr Ferguson, who was elected in 2012, said it would "never have happened" under his regime.
"I don't think councils are here to do research and development projects but having said that it was a factor in our submission to European Green Capital," he said.
"It has served a purpose but was not good value."
But Richard Rankin from Hydrogen Boats, said it would be "viable" if there was a hydrogen station "in place".
"We had to rent a filling station for six months at a cost of £59,000," he said.
"But we're converting the ferry to run on bottled hydrogen and will be running it next year."
Related Internet Links
The BBC is not responsible for the content of external sites.