Whiteladies Picture House: Judicial review application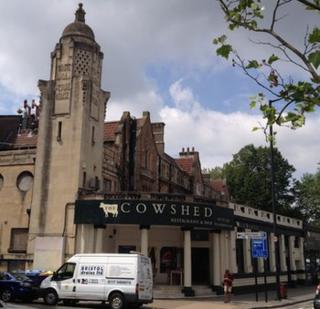 Plans to reopen a disused cinema in Bristol could be delayed after the council confirmed it had received an application for a judicial review.
The council had approved plans to reopen the Grade II listed Whiteladies Picture House including the creation of five new flats in part of the building.
Owner David Lewin's proposal will also see a three-screen cinema run by the Everyman group.
The cinema closed in November 2001 and has remained unused ever since.
'Next steps'
A Bristol City Council spokesman said: "We can confirm that an application for a judicial review has been received in relation to the former cinema on Whiteladies Road.
"Discussions are now under way and we will be agreeing next steps with the applicant very soon.
"Given the nature of the process we cannot provide any further detail at this stage."
Over the years a number of ideas on how to redevelop the former cinema have been put forward but none has come to fruition.
The meeting of the city's development committee in June was told the proposal by Everyman and Mr Lewin was "financially viable" and that the residential element of the plans "essential" to fund the restoration of the auditorium.
But some people campaigned against the plans and about 1,000 signed a petition against the flats and sub-dividing the building into three screens.
The former picture house is within a conservation area and has been on the English Heritage Buildings at Risk Register since 2003.
The owner of the property was unavailable for comment.