Snowmobile crash victim Charlotte Mei Ling Lee's death 'accidental'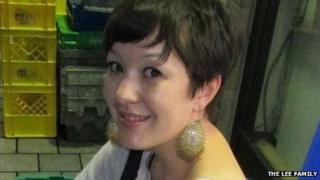 A woman died after she lost control of the snowmobile she was driving and crashed into a tree during a holiday in Canada, an inquest has heard.
Charlotte Mei Ling Lee, 31, from Portishead, near Bristol, was in Quebec with boyfriend Dominique Grogg, when the accident happened on 4 January.
Described as "inexperienced" at driving snowmobiles, she may have "panicked" when negotiating a curve in the trail.
Avon Coroner's Court returned a conclusion of accidental death.
The inquest at Flax Bourton, near Bristol, heard the couple had rented snowmobiles along with two friends and had planned to explore the trails together.
'Not survivable'
A statement from Mr Grogg was read to the inquest in which he said Miss Lee had wanted to drive the snowmobile during their trip.
Mr Grogg, who was riding pillion, suffered a fractured left femur in the crash.
He said: "Before letting Charlotte drive after lunch, I took the time to explain the basics. We let my friends go before us.
"Her riding was going well but at some point she may have panicked and, on a slight left curve going off course, we went off the trail, driving into obstacles."
A pathologist's report said she suffered serious head injuries which were "not survivable".
Miss Lee, who worked as an administrator at Bristol Magistrates' Court, did not regain consciousness after the crash and died at Sacre-Coeur Hospital in Montreal two days later.
Assistant coroner Dr Peter Harrowing said: "It is always extremely sad to deal with such cases in this court, when somebody so young goes on holiday with the sole intention of enjoying themselves [and] ends up with such a sad and tragic outcome."