Bristol Metrobus plan approved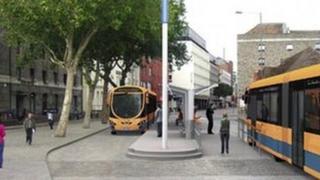 The third and final element of a "rapid transit" bus route through Bristol has been approved by councillors.
The city council's development control committee voted six against four in favour of the North Fringe to Hengrove route for the Metrobus.
Routes it will join - Ashton Vale to Temple Meads, and the South Bristol Link - have already been approved.
South Gloucestershire council is yet to vote on the route, which campaigners have said should be reconsidered.
The vote followed a three and a half hour debate.
Planning officers told the committee the route would reduce travel time and traffic along key routes.
They said the environment for both pedestrians and cyclists would also be improved.
But campaigners against the scheme argued the route would affect the Grade II listed Stoke Park and prime fertile land at Stapleton Allotments.
They urged planners to consider an alternative route.
But Zoe Willcox, the council's director of planning, said: "There's no time to go back and start looking at an alternative. Bristol will lose this opportunity of funding for this scheme."
Planning officers said the allotments would not be lost, but some of them would be moved.