Being Brunel museum given 1,000 items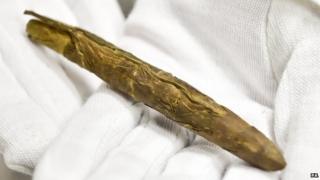 A cigar which belonged to the engineer Isambard Kingdom Brunel is one of nearly 1,000 items to go on public display for the first time.
It is part of a collection donated to the ss Great Britain Trust by collector Clive Richards.
The cigar will join thousands of other items at the Being Brunel museum which is due to open in 2016 in the ship he helped to launch in 1843.
Brunel is thought to be one of the most ingenious engineers in history.
Early life
He built 25 railway lines, more than 100 bridges and three ships.
The iron-hulled steamship, the Great Britain was the most experimental steamship of its time, revolutionising travel and setting new standards in engineering, reliability and speed.
After being left to rust in the Falkland Islands it was rescued and returned to Bristol in 1970, where it was restored and turned into a tourist attraction.
Among the donated items are Brunel's school reports which give a glimpse into his early life, his personalised pen knife and his famous cigar case, containing the cigar.
Matthew Tanner, from the ss Great Britain Trust, said: "Being Brunel will engage people of all ages by looking into the mind of a genius who was also a very human and interesting person.
"Clive Richards' magnificent Brunel Collection is particularly rich in telling the human side of the Brunel story, and will inspire visitors to understand him, and be excited by what he achieved, and perhaps what they themselves might be able to achieve too."
Brunel, who is reputed to have smoked 40 cigars a day, suffered with kidney problems for several years before dying of a stroke at the age of 53 in 1859.