Planning delay 'has cost Bristol Rovers £400k' so far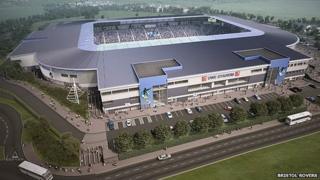 A new football stadium may cost almost £400,000 more to build following a row over a planning appeal.
Bristol Rovers wants to sell the Memorial Stadium to Sainsbury's to fund a new £40m development in Frenchay.
But the Bristol Post has revealed the club has issued a writ in a row over delivery hours at the proposed store.
Sainsbury's said it was aware of the legal action and was in discussions with Bristol Rovers, which refused to comment on the issue.
The dispute centres on when deliveries could be made at the new supermarket in Horfield.
Sale threat
Bristol City Council approved the scheme saying lorries could deliver between 06:00 and 23:00 between Monday and Saturday and shorter hours on Sunday.
The supermarket tried to get this extended but the council refused, saying it would have a detrimental impact on nearby residents.
Sainsbury's did not appeal and indicted it would pull out of buying Bristol Rovers' Memorial Stadium because of the problem.
Bristol Rovers claimed the supermarket was "obliged to submit an appeal" but the supermarket refused.
'Massive knock'
The club also sought the view of a planning specialist, who indicated the prospect of a successful appeal was greater than 60%.
Writing on the supporters' website, GasChat forum user Ras said the news was "devastating" and it was a "massive knock" to the club.
Another fan, RoverDrive, said the stadium, which would be sited alongside the University of the West of England, was vital to the club's future.
"The Mem is not a good enough sporting facility in its current guise and we're missing out on loads of income that the UWE would have provided the opportunity for."