Bristol Old Market bus stop in 'bup stop' bungle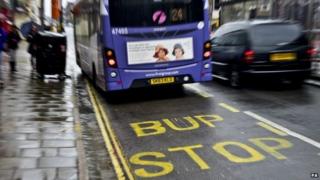 Bungling council workers have mis-spelt "bus stop" as "bup stop" on a road in Bristol.
"Bup stop" was painted in large yellow lettering after a worn road surface was repaired.
The mistake was made as part of work expected to last up to four weeks in the Old Market area of the city centre.
The howler prompted mocking tweets, with Mark Gullick saying: "Thanks. I've been waiting at a bus stop. That will be why my bup hasn't turned up. Gah!"
A Bristol City Council spokesman said: "It is not often we see our roadworks hitting the headlines worldwide, but we understand why this rare mistake has captured people's imaginations.
"While it became something of a temporary tourist attraction, the contractor has now corrected the error at no cost to the local taxpayer."