Zip wire proposal for Avon Gorge in Bristol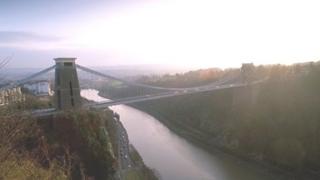 An 875yd (800m) zip wire across the Avon Gorge in Bristol is being planned to open in time for the city's European Green Capital celebrations in 2015.
The idea, revealed in the Bristol Post, would involve a line running from somewhere near Clifton Observatory on one side of the gorge down to Bedminster or Southville on the other.
Destination Bristol is discussing its plans with north Wales-based Zip World.
Sean Taylor of Zip World said the wire would create 30 full-time jobs.
"We're right at the very start and it's a fairly audacious plan but it would be the only zip line in a European city," said Mr Taylor.
John Hirst, from Destination Bristol, said: "The original idea comes from people in Bedminster - they thought it would be a really good idea to raise the profile of Bedminster and Southville.
"What we are trying to do all the time in our organisation is to think of new ways to encourage people to come to Bristol and also make it more exciting for the people who live here."
It will not be the first time a zip wire has been installed across the gorge.
In August 2010, a temporary wire was set up to raise money for charity, but only 17 of the 100 people scheduled to take part were able to due to a boat passing through and technical difficulties.
Zip World has two wires in north Wales; one billed as "the longest zip line in the northern hemisphere" and the other as "Europe's only four-person zip line".