M32 safety barrier corrosion: Traffic slowed over crash fears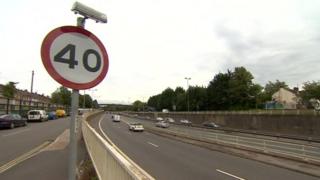 Speed restrictions have been introduced on a motorway over fears cars may crash through a corroded central reservation.
The Highways Agency said a 40mph speed limit would operate between junctions one and two of the M32 in Bristol.
It said a "large" part of the barrier over a mile-and-a-half section was "significantly" corroded and the move was to "maintain safety".
The agency said it would now evaluate the best way to repair the barrier and would consult with the council.
"Identifying a programme for the works that causes the least possible disruption to road users is important to us," said a spokesman.
"We will be looking at a variety of options and consulting with Bristol City Council over the coming weeks to ensure we get it right."
To allow drivers to slow down safely, the speed limit will also be reduced from 70mph to 60mph on the southbound carriageway for a distance of 800m before reaching the temporary 40mph section.