Bristol roads closed ahead of high tide flood risk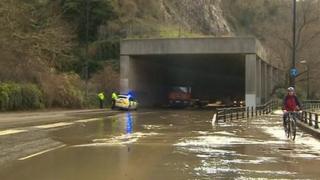 Two roads in Bristol are to be closed for a number of hours because of the risk of flooding from the River Avon.
High tides and recent heavy rainfall means the river could overtop in vulnerable areas, with the worst of the tides expected at 21:29 BST.
Bristol City Council said it planned to build a temporary sandbag wall on Avon Crescent as a precautionary measure.
Avon Crescent will close to all traffic and pedestrians from 20:00 and Cumberland Road from 21:00.
A council spokesman, said the sandbag wall would be in place for the "few hours the high tide is at its peak" and Avon Crescent would remain closed until at least 23:00. Cumberland Road is likely to stay shut until 22:00.
"Council officers will be on standby throughout the night to monitor the situation should conditions turn out to be worse than predicted," the council spokesman added.