Grinling Gibbons sculpture found in Bristol church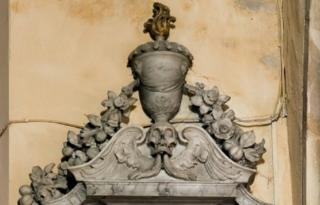 A previously unknown sculpture by England's "finest-ever" woodcarver has been discovered hidden "in plain sight" in a Bristol church.
The marble monument by Grinling Gibbons has hung on the wall of St Mary's, Henbury, since it was completed 330 years ago.
It has been identified after research by The Kings Weston Action Group.
The famous sculptor also worked extensively on Hampton Court Palace, St Paul's Cathedral and Blenheim Palace.
David Martyn from the Kings Weston Action Group, which campaigns to protect the Kings Weston Estate, said: "This is a major discovery and adds a really significant new work to the artistic treasures of Bristol.
"We'd seen the documentary evidence of the monument having existed, but we believed it had been long dismantled and lost.
"It's astonishing that it's survived so long and that no one else has identified it as Gibbons' work before we came along."
The newly-discovered monument, to Elizabeth Southwell of Kings Weston House, has hung on the wall since 1684, but only now has its connection to Gibbons been made.
Gibbons has been described by experts as the greatest woodcarver the British Isles has ever produced and "the Michelangelo of wood" but also worked in stone, marble and bronze.