Clifton Suspension Bridge road works to disrupt drivers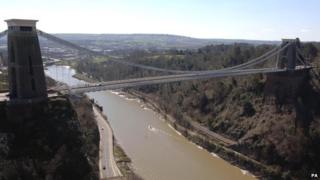 Bristol's iconic Clifton Suspension Bridge is to be shut to vehicles next week to allow for daytime road works.
Cyclists are also being encouraged to avoid using the bridge as only one narrow footway will remain open between 09:30 to 16:30 BST, from 18-22 August.
Road resurfacing, drainage works and pedestrian safety measures are part of the "essential" works being carried out on the approach roads to the bridge.
The management trust said it apologised for any inconvenience caused.
Up to 8,000 vehicles use the bridge each day during its busiest periods, with the number lowering to 6,000 during the school holidays.
Cycling prohibited
The bridge will remain open overnight and during the morning and evening peak periods, with a diversion in place using Bridge Valley Road, Brunel Way and Rownham Hill when workmen are active.
"These works are much needed and will provide a safer environment for the many pedestrians and cyclists who cross the bridge or come to admire it," said bridge master David Anderson.
"During the bridge closures, pedestrians will still be able to use the bridge. However cycling will be prohibited as maintenance work will be taking place on the bridge.
"Cyclists may dismount and walk across the bridge. However, as only one narrow footway will be open they are requested to avoid using the bridge if possible."