Green Cross Code man David Prowse reunited with Droid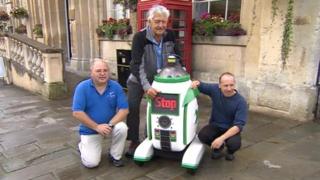 Actor David Prowse, who played the Green Cross Code man in 1970s and 80s television road safety films, has been reunited with his robot sidekick.
The Bristol actor, who also played Star Wars villain Darth Vader, was given the robot when filming ended.
He was asked to appear with it at a sci-fi convention in Wiltshire but when the organisers saw the state it was in, they offered to renovate it.
Mr Prowse said it was "fantastic" to have the robot back in mint condition.
In the series of public information films, the Green Cross Man character was accompanied by a robot, known as Droid, who helped teach children the Green Cross Code and general road safety.
Mark Enright, of Devizes-based Charity Sci-Fi, spent three months restoring Droid - which had been kept in the back of Mr Prowse's garden shed - keeping as many of its original parts as possible.
Mr Prowse said after he began working on the road safety films in 1976, road accident figures reduced "astronomically from about 70,000 to 30,000".
"I got the Green Cross Code and Star Wars almost at exactly the same time," said Mr Prowse.
"The fact I was involved with Star Wars was so beneficial to the road safety campaign - it was phenomenal.
"I'll be taking it round the sci-fi shows, then people can have their photo taken with it."