Bristol councillor Barbara Janke appointed to House of Lords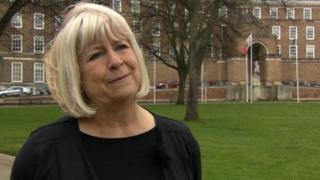 A Liberal Democrat councillor who led Bristol City Council for much of a decade has been made a life peer.
Barbara Janke's appointment to the House of Lords, along with 21 others, was announced by the government.
Bristol Mayor George Ferguson has lauded the appointment calling it "tremendous news" for the city.
Lady Janke of Clifton is one of six new Lib Dem peers along with 12 Conservatives, three from Labour and one from the DUP.
'City ambassador'
She said it was a "great honour" and would give her the opportunity to promote ideas and ambitions of the local area at government level.
The Parliament website says members of the Lords "help to make and shape laws and hold the government to account", with many members drawing on experience from their careers.
Mr Ferguson added: "Barbara has devoted her life to public service and is a very fitting choice to sit in the House of Lords.
"I know she will be a great ambassador for Bristol and asset to the upper chamber as 'Lady Janke of Clifton' and goes with our very best wishes."
Lady Janke served as city council leader in 2003-2004, 2005-2007 and finally from 2009 to 2012.