BOC fined after worker injured in Bristol gas explosion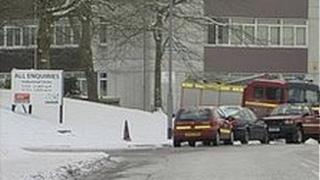 A gas supplier has been ordered to pay £260,000 in fines and costs after a worker suffered serious burns when a gas cylinder he was filling exploded.
Alan Garton, 57, from Bristol, suffered burns to his head and body in the blast at BOC's Brislington plant in 2010.
Two other employees were also injured.
The Health and Safety Executive (HSE) said the plant was a "top tier major hazard site" and that BOC had no excuse for failing to take the necessary safety measures.
Mr Garton had been filling a cylinder at the Whitby Road plant when the acetylene solution became unstable, according to the HSE.
Exclusion zone
The blast and subsequent fire left Mr Garton with multiple lacerations and significant burns to his left thigh, left arm and head.
Some nearby roads were closed and a 200m (656 ft) exclusion zone was set up around the site for several days while fire fighters tackled the blaze.
An investigation by the HSE found the company had failed to ensure the health, safety and welfare of its employees and had "not taken the necessary measures to prevent a major accident".
BOC Ltd, of Priestley Road, Surrey Research Park, Guildford was fined £175,000 and ordered to pay £85,000 in costs after admitting a breach of the Health and Safety at Work Act 1974.
After the sentencing, HSE inspector Evan Bale said: "The company fell below the standard expected for controlling risks associated with handling this hazardous chemical."