Further resident parking zones approved in Bristol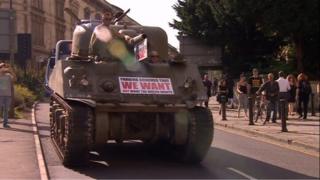 Two further resident parking zones in Bristol have been given the go-ahead.
Mayor George Ferguson said the new schemes in Bower Ashton and St Pauls will "address parking pressures".
Work will begin on both schemes shortly, with Bower Ashton due to go live on 29 September, and St Pauls on 20 October.
The scheme has not been popular with everyone. Clifton traders drove a tank through the area in protest at the "lack of consultation".
They also handed in a 5,000-name petition against the plans.
Last month a number of major employers including the university and a hospital trust called for a rethink of a city-wide residents' parking zone.
Bristol University said staff not using buses were being "penalised" while hospital managers said the move would affect low-paid workers.
And in June it was announced the mayor would face a debate about his leadership after an e-petition on the council website amassed more than 3,500 signatures.
The petition was set up as part of the ongoing parking row.
So far, four zones have been rolled out across the city.
They are part of a city-wide scheme to deter commuter parking.
Bristol City Council expects 12 in total to be in operation by next spring.
Mr Ferguson, who is behind the parking plans, said he has received "very positive reactions" from those living in the four areas that are up and running.