Anti-Trident protest scarf unveiled in Bristol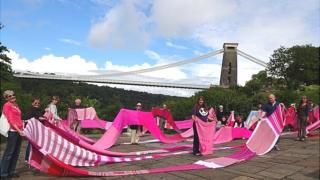 A 100m (328 ft) long pink scarf has been unveiled in Bristol, ahead of a protest against the replacement of the UK's Trident nuclear weapons system.
Up to 100 knitters have spent the past eight months making the scarf for the campaign, Wool Against Weapons.
The segment is part of a seven-mile (11 km) scarf, due to be stretched between two Atomic Weapons Establishments (AWE) in Berkshire next week.
A final decision on Trident, the UK's nuclear deterrent, is due in 2016.
The "peace scarf" represents "thousands of hours of effort, from thousands of people", according to the Campaign for Nuclear Disarmament (CND).
Next Saturday, the group intends to stretch the scarf between AWE Aldermaston and AWE Burghfield, which provide the warheads for the submarine-launched missile system.
Hannah Tweddell, chair of Bristol CND, said the "knitted subversion" showed the level of opposition to the government's plans to replace Trident.
'Blankets for homeless'
"Over 100 people in Bristol have contributed to the scarf - some people had to learn how to knit in order to do it," she said.
"It's a disgrace in this time of austerity that the government is planning on spending £100 billion on Trident replacement.
"But we're nearly at the seven mile mark, and after the 9th of August we'll be turning it into blankets for the homeless."
The UK's existing four ballistic missile submarines are to be renewed from the late-2020s.
The government's final decision on whether to renew or replace the missile system is due in 2016.