Bristol's The Fleece music venue: nearby flats given the green light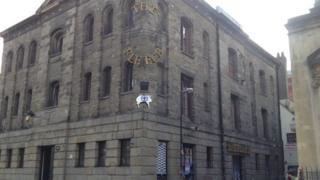 Plans for new flats close to a music venue in Bristol have been given the go-ahead.
The owners of The Fleece claimed it may have to shut because bedrooms would be too close to the stage and they fear people will complain about noise.
Developers Edenlaw Ltd said the claims were "not true" and the development would improve an unused building.
Bristol City Council said it had strived to find a solution that met the needs of all the parties involved.
"We are pleased to see these conversations bearing fruit with a plan now in place to proceed with this development whilst protecting the interests of local businesses," a spokesman said.
"Whilst the importance of residential development in the city is recognised, Bristol City Council will continue to work closely with developers to ensure the negative impact upon businesses such as The Fleece is greatly reduced."
An online petition calling for the council to turn down the plans has received more than 40,000 signatures.
The flats, planned for the old office block on Victoria Street, would place bedrooms within 20m (65ft) of bands playing at the venue.
The developer was granted a change of use from offices to residential last November, but the council was unable to take noise into account during the process.
Wednesday's meeting of the council's development committee voted to allow alterations to the front of the building - with a number of conditions attached.
The Fleece has hosted many famous acts since it opened in 1982 including Oasis, Radiohead, Amy Winehouse, Manic Street Preachers, The Killers and The White Stripes.