'Bristol Friends of Gaza' protest camp outside BBC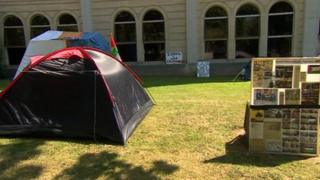 Protesters who have set up a camp outside the BBC's studios in Bristol said they would "stay put until the BBC tells the real truth on Palestine".
Campaign group "Bristol Friends of Gaza" set up tents outside the BBC on Whiteladies Road on Wednesday night.
Eddy Clarke, from the Palestine Museum in Bristol, said he joined the protest as he "could not accept the outrageous bias of BBC news reporting".
A BBC spokesman said: "It is BBC policy not to discuss security matters."
The protest group, made up of people camping in about eight tents, said it wanted to present "a dossier of their complaints of media bias on the reporting of Palestine".
Israel launched its military offensive on 8 July with the declared objective of stopping Hamas, the Islamist group which controls Gaza, firing rockets from Gaza into Israel.
More than 1,030 Palestinians, mostly civilians, 43 Israeli soldiers and two Israeli civilians have been killed. A Thai national in Israel has also died.