Frenchay hospital's links with village are celebrated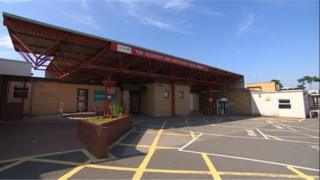 A special church service is being held to remember and celebrate a South Gloucestershire village's links with the recently closed Frenchay hospital.
Frenchay village was home to the hospital which closed in May as part of a move to Southmead in Bristol.
Reverend Judith Lee said: "There seemed to be a real sense of loss in the community once the main hospital moved on in May."
The service will be held at Frenchay Parish Church on Sunday evening.
'Joys and sorrows'
Although the hospital closed two months ago, the closure has left a "huge sense of loss" in the village which has prompted the church to hold the service.
Many local people volunteered for the hospital and raised money for many of its appeals.
There was also a long-running locally based campaign to keep the facility open.
"Most people have a real emotional connection with the hospital," Rev Lee said.
"They can tell you stories of joys and sorrows and it was part of their daily life with the village," added Rev Lee.
Invited speakers will also take part in the service which aims to tell the human story of the relationship between the church and the hospital.
NHS project manager, Steve Brown, said: "The hospital was a huge part of our local community and has been for decades.
"It's not overstating to say there's a grieving process getting used to the fact there is no longer what was one of the busiest acute hospitals in the south west on their doorstep."
The remainder of the hospital's outpatient services will close by December.
All patients were transferred to Southmead in May.
Part of the site will eventually be bulldozed to make way for housing.