Matches remember flight MH17 victim Ben Pocock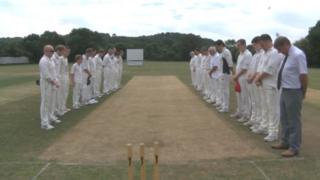 A minute's silence has been held before three cricket matches to remember a student from Bristol who was killed in the MH17 plane crash in Ukraine.
Ben Pocock had been a member of St Mary Redcliffe Cricket Club for 10 years and each of the club's three teams held a minute's silence before their matches.
The 20-year-old was a student at Loughborough University.
The Malaysia Airlines plane crashed in eastern Ukraine killing all 298 people on board.
Mr Pocock had been travelling to Perth in Australia for six months as part of his university studies.
'Great academic'
Graham Marsh, chairman of the cricket club, said: "It's such sad circumstances, Ben who was a great academic and sportsman will be so tragically missed by everyone.
"And also the club felt he was such a good member here and his family were so involved with the club."