Avon Fire and Rescue unveil Bristol fire station plan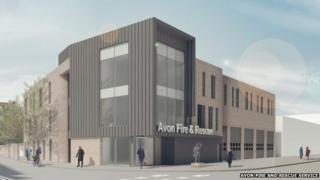 Plans for a smaller fire station to replace the current building in the centre of Bristol have been unveiled by Avon Fire and Rescue Service.
The service wants to rebuild Temple Fire Station and sell or lease the rest of the site to raise funds.
A spokesman said it would cost £9m over the next decade to maintain the current building, which was built in 1973.
The new fire station will cost £4m. It is part of plans to reorganise the fire service in the face of budget cuts.
Earlier this year, the service announced its headquarters at the same site will move to Keynsham, three new stations would be built and five stations across Bristol would close.
Chief Fire Officer Kevin Pearson said: "In simple terms, it would not be cost effective to continue to invest money in the existing building.
"As a result Avon Fire Authority has taken the view that taxpayers' money is better spent on providing a new fire station which would dramatically reduce our overheads in the future."
Plans for the new station have gone on display until 1 August, before a planning application is submitted by the end of the year.