'Crying' statue appears outside Bristol church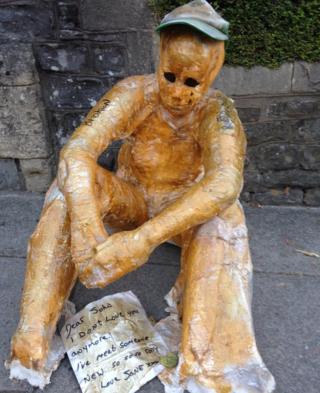 A mysterious 'crying' statue has appeared outside a church in Bristol.
The "slightly creepy" gold figure, which looks to be made of papier mache, was photographed at Tyndale Baptist Church by a member of BBC staff.
A note attached to the model said: "Dear John, I don't love you any more. I've meet [sic] someone new. So so so sorry, Love Jane xxx".
It is not known where the statue came from or who put it there, although the church said it "appeared overnight".
'Out of nowhere'
"It wasn't here last night when I locked up as far as I know," said Edward Duffield, chair of trustees at the Tyndale Circle Day Centre which is part of the Whiteladies Road church.
"I arrived at 7:30 this morning and it was here. I know nothing about it. It has come out of nowhere.
"There's been no contact with anyone and we really are at a total blank with it."
Mr Duffield added it looked like someone had "spent quite a lot of time making [the statue]" which is also wearing a green cap.