Bristol man on crashed Malaysia Airline MH17 flight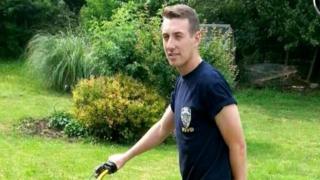 A student from Bristol was among the passengers on a plane which crashed in Ukraine on Thursday.
Ben Pocock, who was studying at Loughborough University, had just completed the second year of his International Business degree.
His family said he was travelling to Perth in Australia for six months and they were "devastated" by his loss.
The Boeing 777 from Amsterdam to Kuala Lumpur came down near Shakhtarsk with 298 people on board.
'Fun-loving son'
In a statement, the family of Mr Pocock said: "He was a gifted academic, talented athlete but more importantly a warm, caring, fun-loving son and brother who had an extremely bright future ahead of him.
"Ben is going to be terribly missed not only by his family but by the wider Keynsham community where he made so many long-lasting friends."
The university said its "thoughts and sincere condolences" were with the family and offered its support.
Mr Pocock had been flying to Australia to begin a professional placement and study at the University of Western Australia as part of the third year of his degree course.
"Ben was an excellent student and on course to gain a first class degree," the university said.
"He was also a fine athlete, who played on the university athletic union's ultimate Frisbee team and won their player of the year honour."
The statement added: "Our thoughts and sincere condolences are with Ben's family and friends, and with all those who have lost family and friends in the crash."
'Huge shock'
Mr Pocock played ultimate Frisbee for the East Midlands Open team in Leicester as well as cricket for St Mary Redcliffe Cricket Club, where friends paid tribute on the club's Facebook page.
"I can't believe it. Ben Pocock good fun-loving bloke. Too young to be taken from his family and friends," wrote Graham Bell.
"In absolute shock, so sad, never seen him not smiling or laughing," said Ian Jones.
Colin Veal added: "Huge shock, great guy."
Graham Marsh, chairman of the cricket club, said Ben was a "lovely young man" who had been a club member for "many years", as had Ben's father, grandfather and great uncle.
"It's devastating really. [He was] a great athlete, who I think would have done great in the future," he added.
"He'll be dearly missed by all members. Not just at the club but by all who knew him as well."
A social event that was to be held on Friday evening was cancelled by the club after the news of Ben's death, Mr Marsh said.
Flight MH17 came down 50km from the Russia-Ukraine border.
The two sides in Ukraine's civil conflict have accused each other of shooting the jet down with a missile.
Malaysian Airlines said of the passengers' nationalities identified so far: 154 were Dutch, 27 were Australian and 45 were Malaysian, including 15 crew.
As well as 10 from the UK, there were passengers from Indonesia, Germany, Belgium, the Philippines and Canada.