Hundreds caught as M4 and M5 speed cameras around Bristol activated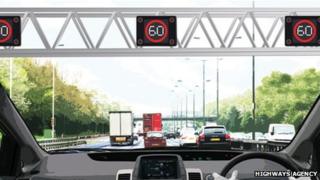 Police say hundreds of motorists recorded speeding on two motorways near Bristol have "no excuse".
Some 1,500 drivers were caught in the first two weeks as new variable speed cameras on the M4 and M5 were activated. One was recorded at 124mph.
Ch Supt Ian Smith said the "vast majority" of the offences occurred when the speed limit was reduced for "good reasons".
He said this could be due to traffic building up or debris in the road.
"If people are deliberately ignoring those limits which have been set because of increased danger... [then] there's really no excuse for that whatsoever," Mr Smith said.
The managed motorway project was signed off in January, but the cameras only became active recently.
Figures obtained by the BBC show between 27 June and 11 July 1,502 vehicles were recorded speeding.
They also reveal 70 drivers were travelling above the normal 70mph limit when the speed signs were off including three over 100mph.
Speed awareness courses have been offered to 1,318 motorists in lieu of a £100 fixed penalty notice and three points.
One hundred and sixty seven drivers have been sent fixed penalty notices and 17 have been summonsed because of the severity of the alleged offence.