Village post office opens after 20-year campaign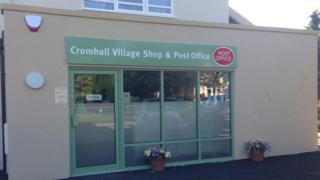 A permanent post office in a South Gloucestershire village has been officially opened more than 20 years after the old one closed.
Locals in the rural community near Thornbury have been campaigning for a replacement shop since 1992.
A portable building has been used by a group of volunteers since 1995.
The scheme, which also includes three new homes, has cost £650,000 and was funded by South Gloucestershire Council and Merlin Housing Society.
A spokesman said the shop was a "lifeline for the remote rural village" and "an essential community hub which prevents people from becoming isolated and cut off".
Chairman of the Village Shop Association, Patrick Martin, said: "It is a very thriving village and we wanted the shop and especially the post office to continue."