Bristol man given stamps after passport lost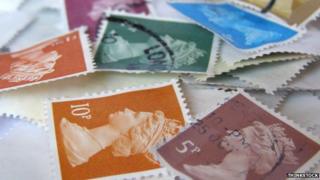 A holidaymaker was offered six stamps as compensation after Royal Mail lost his passport before a trip.
Oliver Keynes, from Bristol, used the firm's special delivery service to send the passport to Trailfinders as part of a visa application for India.
But when the firm opened the envelope the passport was not inside. Mr Keynes' trip was cut short from three weeks to nine days because of the loss.
Royal Mail has now offered to reimburse Mr Keynes for the passport costs.
But the firm said that it could not cover "unlimited liability for costs incurred" unless extra "consequential loss cover is also purchased at time of posting".
'Apologise unreservedly'
A spokesman added: "We process millions of items each day without incident and take seriously any customer reports of loss or undelivered items.
"We will in this instance reimburse Mr Keynes for the cost of his passport and postage costs.
"Royal Mail would like to apologise unreservedly to Mr Keynes for this incident and for the obvious inconvenience caused."
Mr Keynes said: "I was asking for a refund of the costs that I've had to spend as a result of having my passport stolen.
"I'd also like, if not an apology, then a little bit of feeling like I've been treated with respect for something that was nothing to do with me."
Mr Keynes said the loss of his passport had cost him up to £500 extra as he had had to rearrange flights.