Rescued police dog put to sleep after being found to be a banned breed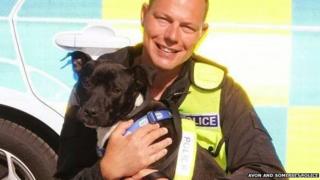 A trainee police dog which was returned to the Somerset rescue centre it came from after it was found to be a banned breed has been put to sleep.
Tyson was re-homed by Avon and Somerset Police following an appearance on the Channel 5 TV show Dog Rescuers.
But breed experts discovered that Tyson was a pitbull-cross which is banned by the government's Breed Standard Laws.
He was returned to the RSPCA's West Hatch rescue centre which was unable to re-home him and had him put to sleep.
Avon and Somerset Police said: "The outcome has devastated both police dog handlers and RSPCA staff who cared for and trained Tyson over a number of months."
'Hard to identify'
Tyson was being trained as a sniffer dog for the force when his breed was identified.
Inspector Dave Eddy said: "It can be very hard to identify the dangerous breeds if they are mixed with other breeds that look similar, such as Staffordshire Bull Terriers.
"In Tyson's case, it was our expert Dog Legislation Officers who identified the physical traits.
"We will continue to use rescue dogs and work with the RSPCA to use rescue dogs wherever possible."
The RSPCA said the Breed Standard Laws "punishes certain types of dogs for the way they look and fails to consider a dog's individual behaviour when determining whether or not they are dangerous.
"As a result, dogs whose behaviour poses no risk are branded 'dangerous' just because of their appearance."
The Department for Environment, Food and Rural Affairs (Defra) said the laws were in place to protect people from types of dogs bred for fighting.