Bristol Downs 'may become pop concert venue'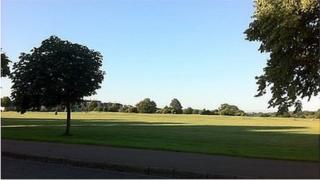 Regular pop concerts and music festivals could be held on the Downs in Bristol.
The green open space on the edge of the city is currently used for only a handful events each year.
Bristol City Council's Downs Committee said it needed to increase income due to "financial pressures".
Work, including repairs to a cliff face at Avon Gorge which the committee also runs, needs to carried out, leaving only about £26,000 left.
The committee, which has managed the area since 1861, is also looking at increasing charges for commercial and charity groups to hire the area for fundraising events.
'Antipathy from residents'
Income from events on the Downs currently raises about £60,000 each year.
Richard Bland, from the Friends of the Downs and Avon Gorge, said: "We agree that private money has to come into the Downs, but it seems to us that there's a lack of imagination about the future of the Downs.
"Very loud and late pop concerts would meet with a lot of antipathy from the residents who live in the immediate vicinity."
The idea was discussed at a meeting on Monday. The changes are due to come into force next April.