'Anonymous American' donates comics to Bristol bookshop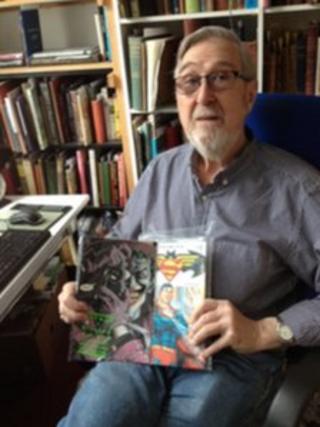 Hundreds of superhero comic books have been donated to a charity bookshop in Bristol by an anonymous "American gentleman".
Volunteer Colin Richardson at Books for Amnesty on Gloucester Road said the collection could be worth about £1,000.
He said: "The American gentleman brought in something like six to eight hundred comics and they're all in mint condition."
Most of the comics and graphic novels donated date from the 1980s and 90s.
Mr Richardson said: "He was unusual in that the quantity he brought in was very large. He was going back to the States and he didn't want to, or couldn't, take them back with him - so we got them.
"They're not early [editions], so we're not talking more than a couple of pounds at most - and most of them will be a pound - but you add that up and that's six to eight hundred quid.
"And maybe more, so you're looking at close to £1,000 in that one donation."