Bristol employers call for rethink on residents' parking zones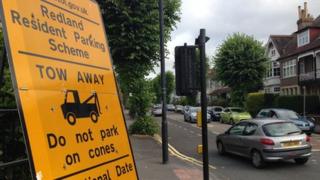 Major employers in Bristol, including the university and a hospital trust, are calling for a rethink of a city-wide residents' parking zone.
Mayor George Ferguson wants residents to pay for permits in a bid to halt commuters parking on roads.
Bristol University said staff not using buses were being "penalised" while hospital managers said the move would affect low-paid workers.
Mr Ferguson said it was "not an exact science" and said he had made changes.
"However much consultation you have it's never enough. The best way is to test things," Mr Ferguson said.
"I do think the common reaction for change of this sort is of fear."
The mayor said he was "not willing to extend the pain" by slowing down the roll-out of the parking zones.
Tank protest
Parts of the parking zone have already been created in areas such as Cotham, Kingsdown and Cliftonwood. Other areas are due to follow in the coming months.
The scheme has faced opposition, with former Top Gear race driver Ben Collins and former Radio 1 DJ Tony Miles both publicly criticising it.
Mr Miles drove a tank through Clifton as part of his protests.
A survey of more than 500 firms, conducted by the Bristol Chamber of Commerce and Initiative (BCCI), has found 73% of businesses felt the consultation into the scheme was inadequate.
No alternatives
A similar number - 74% of firms - said public transport infrastructure was not good enough to cope with the change.
Patrick Finch from the university said: "Many of our staff are going to be affected, particularly those that have children, who cannot get in early enough to get a parking space. They are effectively being penalised for not using public transport."
John Savage, from University Hospitals Bristol Trust, which runs the city's Royal Infirmary, said staff could find no other easy way to get to work.
"There is no doubt that the changes in free parking zones will impact significantly on hospital staff, particularly nurses and lower paid staff," he said.
Mr Savage said staff faced the prospect of there being "no clearly credible alternative" to get into work.