Bristol NHS campaigner Daphne Havercroft barred from register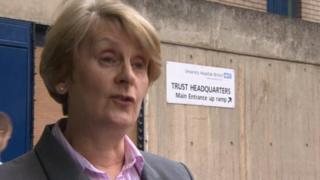 An NHS campaigner in Bristol says she has been removed from a hospital trust's register of members for being a "vexatious complainer".
Daphne Havercroft said her "removal" from the Register of Members University Hospitals Bristol NHS Foundation Trust was because she "asked questions".
The trust said she had "breached" its constitution "by acting in a manner contrary to the trust's interests".
Mrs Havercroft said as a member of the public she had "a right to campaign".
'Disruptive and intolerable'
She had been a member of the foundation trust which is made up of trust staff, patients, carers and members of the public.
Overall there are just over 21,000 members - with about 6,500 of those being members of the public - staff members number about 9,500 and almost 5,000 are patients.
Analysis: Matthew Hill, BBC West health correspondent
Daphne Havercroft's questions were instrumental in unearthing the crisis in histopathology, where a number of cancer patients were misdiagnosed.
It helped lead to an independent inquiry in 2010, but Mrs Havercroft continued to ask the NHS questions under the Freedom of Information act about what action senior executives took, after they first learned of pathologists' concerns in 2008.
These requests were refused as 'vexatious', something which was upheld by the Information Commissioner after Mrs Havercroft appealed against this decision.
Mrs Havercroft, from Almondsbury, was sent a letter on 3 June from the trust's chief executive Robert Woolley.
The letter expressed concerns "some of your information requests have been vexatious in nature and your activities have had a detrimental effect on hospital staff".
Mr Woolley said in his letter "governors are of the reasonable opinion that your actions have been disruptive, distressing and stress-producing for the staff involved to the extent that they have become intolerable."
The letter accused her of "grossly misusing" the Freedom of Information act and said her removal from the register was "fully justified".
Mrs Havercroft said she was not "an isolated campaigner" and had "support from local people".
'Judgement required'
She said: "In my view, it's because people who are in positions where they have to be held to public account do not want to be held to public account for their actions.
"They've removed me as a member of the foundation trust. Well it doesn't make any difference to what I do. I'm a member of the public.
"And the NHS, whether they like it or not, their boards are required to subject themselves to public judgement on their propriety and professional codes of conduct."
The trust said: "We uphold the right of patients and the public to question how NHS services are run and we will always be open in responding to reasonable questions."