Law graduate Rhiannon Brooker jailed over false rape claims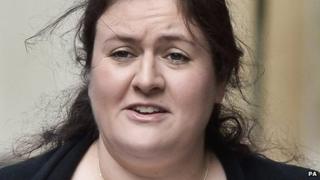 A law graduate who falsely accused her boyfriend of rape as an excuse for failing her exams has been jailed for three-and-a-half years.
Rhiannon Brooker, 30, was convicted at Bristol Crown Court of perverting the course of justice.
She claimed Paul Fensome, 46, had beaten her, forced her to have sex and also caused her to miscarry. She also faked injuries to suggest he hit her.
Brooker faked the rape claims as an excuse for failing her law exams.
'Utterly wicked'
Brooker, from Frampton Cotterell in South Gloucestershire, was found guilty of 12 charges related to five false rape claims.
She also lied about six assaults and a claim of false imprisonment.
Mr Fensome was held in custody for 36 days before police realised he had clear alibis for the dates of the alleged rapes.
Sentencing, Judge Julian Lambert said Brooker, had lied in an "utterly wicked" way.
"Rhiannon Brooker was a bright star and shining example of what can be achieved by those who lack special privileges," he said.
"All that went terribly wrong with tragic consequences when she began to lie. These lies had a terrible, corrosive effect. The effect was like ripples spreading through a pool of sadness.
"The effect continues today. Rhiannon Brooker lied and lied and lied again and was relentless in her attempts to mislead."
Mr Fensome, who has since received £38,000 in compensation from Avon and Somerset Police, submitted a victim impact statement to the court in which he said his life had been "turned upside-down and ripped apart"
"My family and I have been put through an immense amount of stress and heartache, which continues to the present day," he said.